Pacelli Jr./Sr. High School in MN
작성일
18-01-16 14:05
|
조회 97,825
본문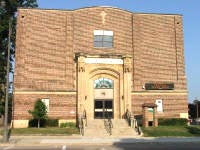 Pacelli Jr./Sr. High School, Austin, MN – "Faith + Scholarship + Tradition" 

Looking for a small school where students get lots of individual attention. Pacelli Jr./Sr. High School may be the place for you. Pacelli has an enrollment of 110 students, but is big in school spirit. A variety of extra-curricular activities are available, especially in music. The choir performs in several venues, including presenting an annual Madrigal Dinner in December. It is considered one of the top vocal programs in the state. 

Pacelli boasts a strong Math and Science curriculum. There is also a Post-Secondary Enrollment Options program, which allows eligible juniors and seniors to take courses at Riverland Community College. The school states that, "Our qualified teachers provide a learning environment which cultivates self-discipline and self-worth. They encourage critical thinking and creativity. Small class sizes provide individualized attention for each student. This allows teachers the opportunity to identify and accommodate the unique capabilities and needs of each student." College entrance test scores are well above average, paying off in college scholarships awarded to the graduating seniors. 

Located in Austin, MN, Pacelli is near Rochester, MN, known for its outstanding medical facilities. This is a nice community in which to live. The school looks forward to welcoming students from South Korea.